Central Kalimantan is one of five Indonesian provinces on the island of Kalimantan (also known as Borneo). In 2011, the province was selected to be Indonesia's pilot REDD+ province, under a bilateral agreement with Norway focused on reducing Indonesia's emissions. Forest fires and peat decomposition are the largest drivers of emissions in the province, which is still suffering from the continuing impacts of the failed "Mega Rice Project", which in the 1990s aimed to turn more than one million hectares of peat swamp forest into rice paddies in an effort to alleviate Indonesia's growing food shortage. In 2011, as part of the wider efforts to reduce emissions from deforestation, the provincial government placed a two-year moratorium on new logging permits for primary forest and peatlands.
Palm oil production (which contributes one-third of Central Kalimantan's economy) is often associated with deforestation and is also beginning to be addressed by the provincial government. A continued linkage between deforestation and the palm oil sector could become an important barrier to accessing global markets, while diminishing the long-term well-being of Central Kalimantan's society.
Central Kalimantan is Indonesia's 3rd largest province in surface area, and retains about two-thirds of this area under forest cover.

Central Kalimantan's Provincial Regulation on Sustainable Plantations acknowledges customary claims on lands (the first of its kind in Indonesia).

The palm oil sector in Central Kalimantan contributes 28% of the province's GDRP, generates 165,600 jobs, and provides incomes to many smallholder families.
Strategy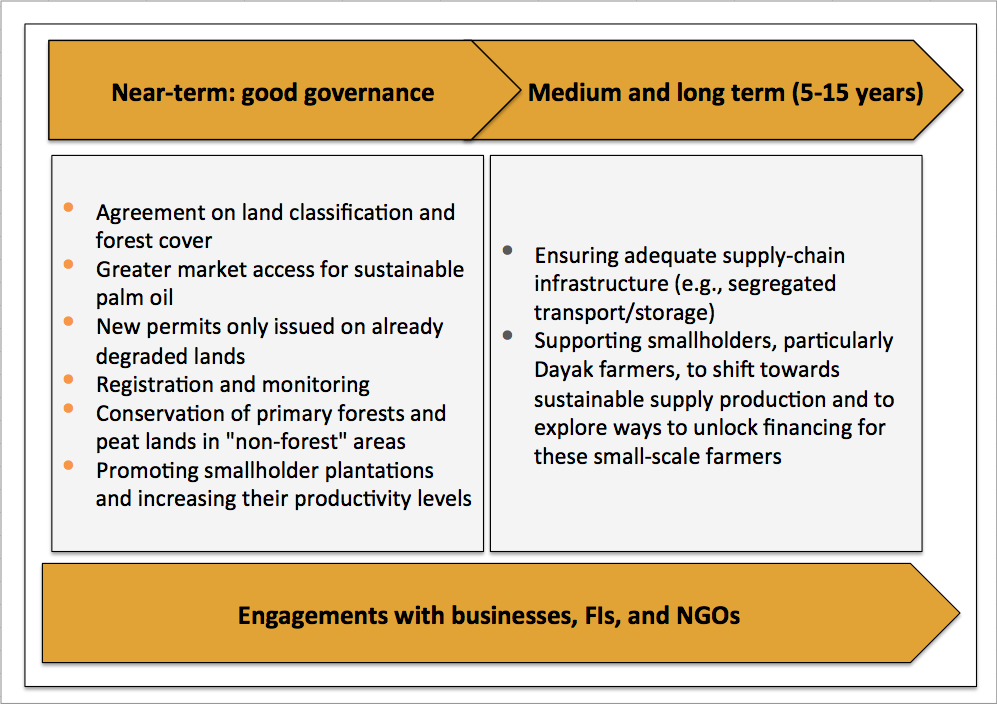 Earth Innovation Institute is working with the provincial and district governments of Central Kalimantan, palm oil companies and civil society organizations to develop a provincial "roadmap" to reduce or end deforestation by increasing the productivity of existing palm oil plantations and by redirecting expansion of new plantations onto lands that are already cleared and below their productive potential. The road map seeks to achieve the transition to a zero deforestation palm industry, an 80% reduction in deforestation below the historical average, and an increase in smallholder production of palm oil from 11 to 20% of the province total by 2020. Some elements of the strategy include:
Commitment from buyers to recognize the province's progress through sourcing
Financing and technical support for smallholders and Dayak communities to participate in palm supply chains
Overcoming bureaucratic obstacles to sustainable palm oil
Financing to build institutional capacity of provincial and district governments
Publications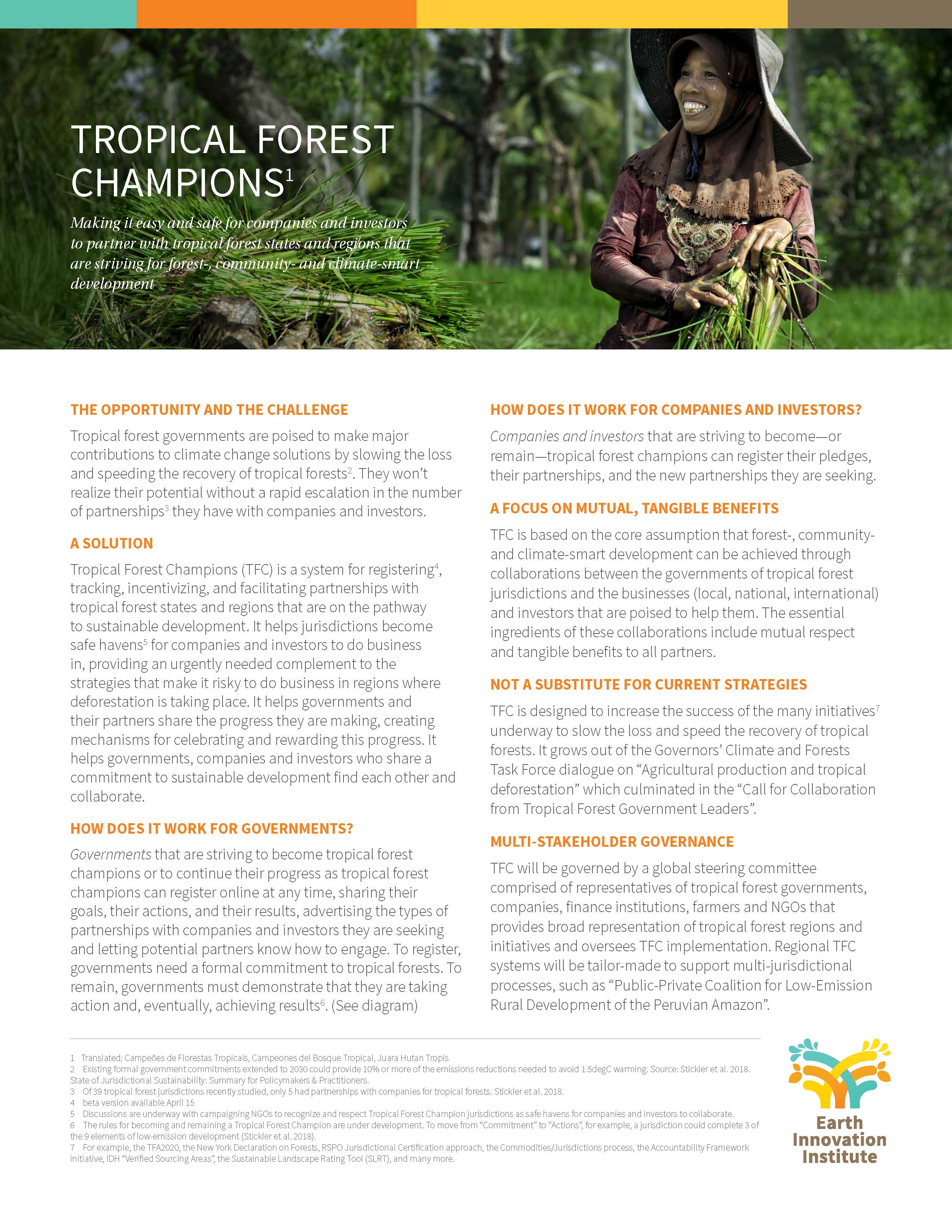 Tropical Forest Champions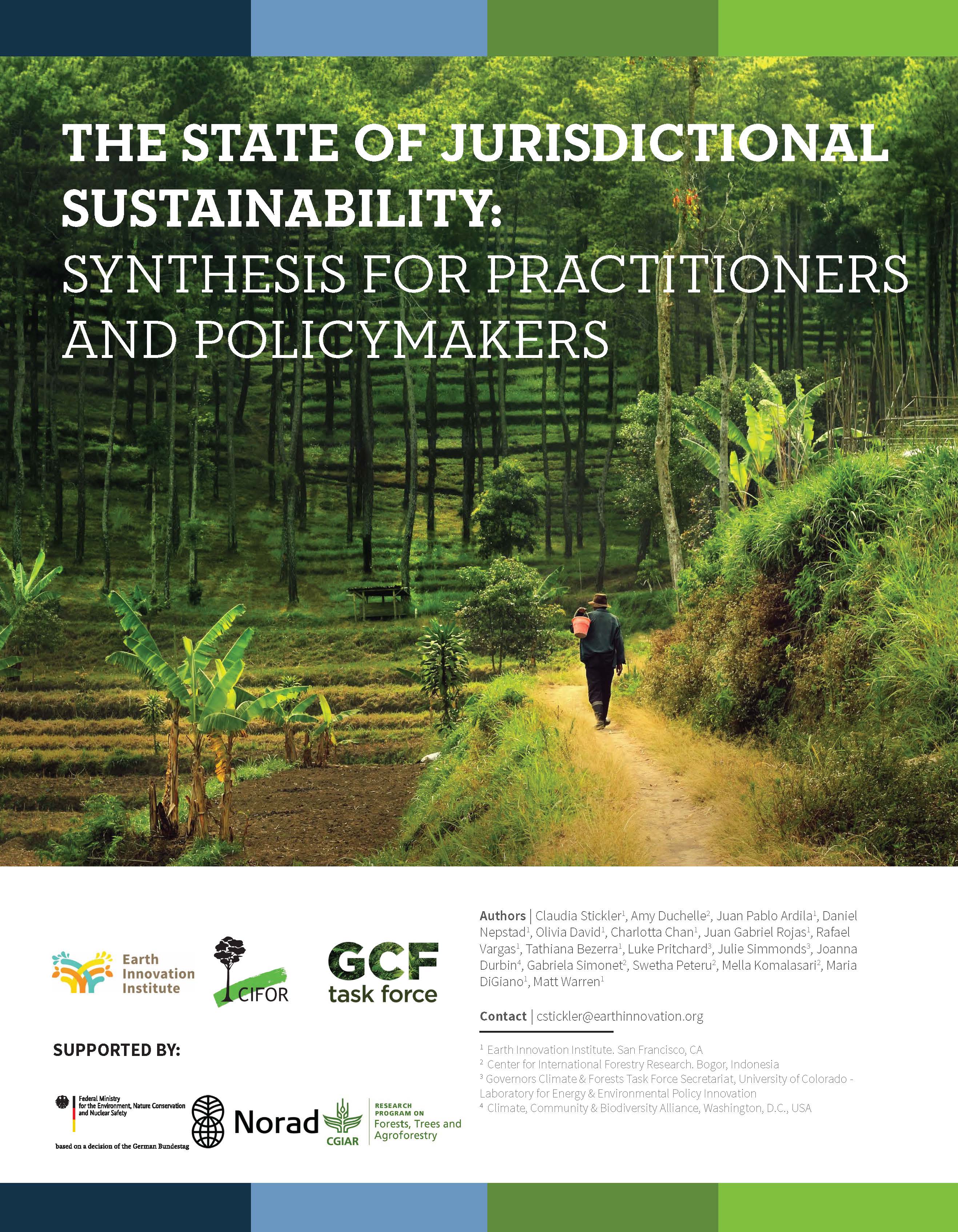 The State of Jurisdictional Sustainability: Synthesis for Practitioners and Policymakers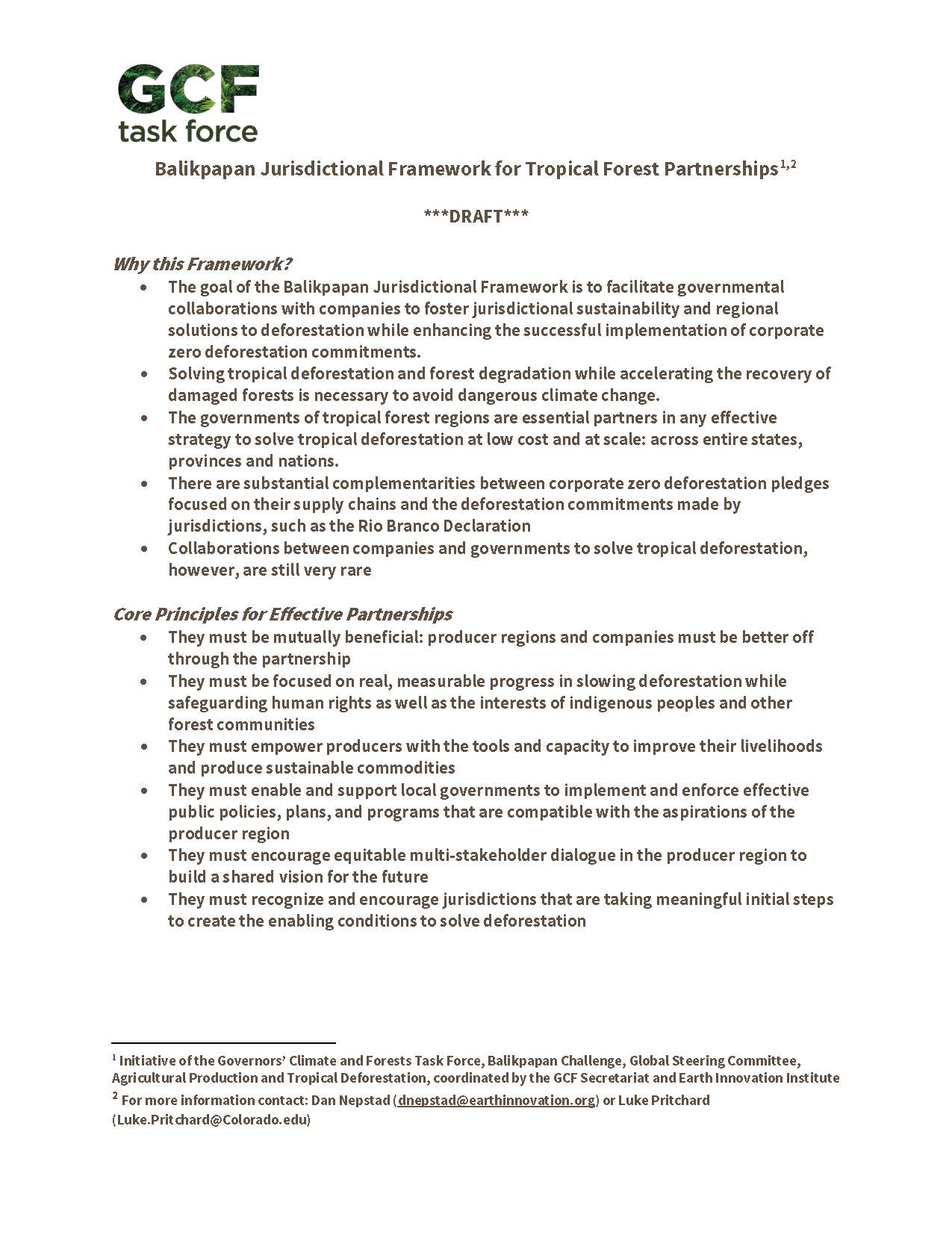 Balikpapan Jurisdictional Framework for Tropical Forest Partnerships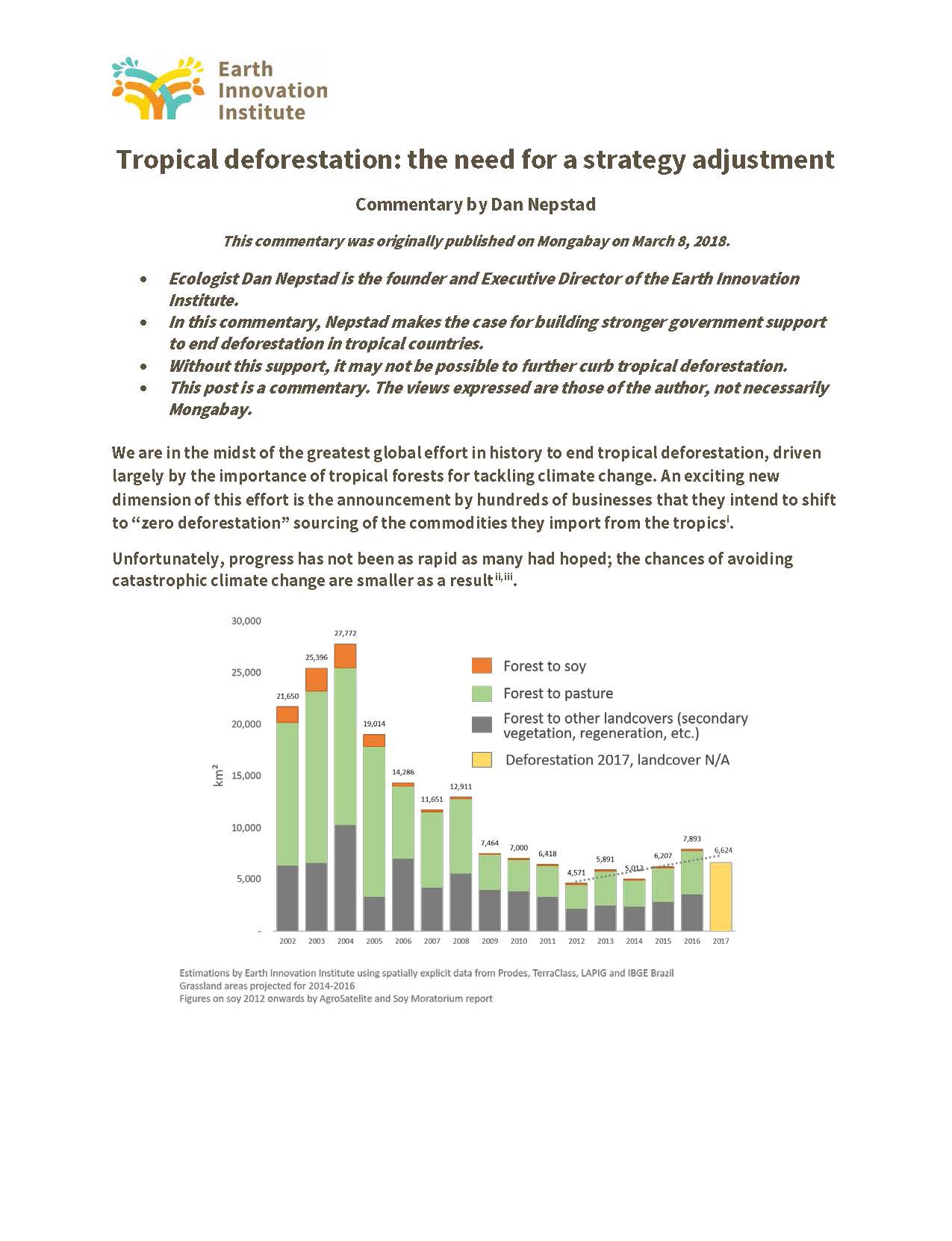 Tropical deforestation: the need for a strategy adjustment
Indigenous Peoples & Low-Emission Rural Development
Fostering Low-Emission Rural Development From the Ground Up
Partners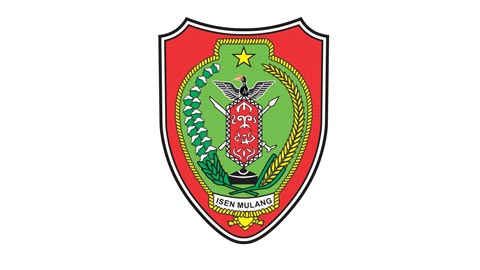 Central Kalimantan Government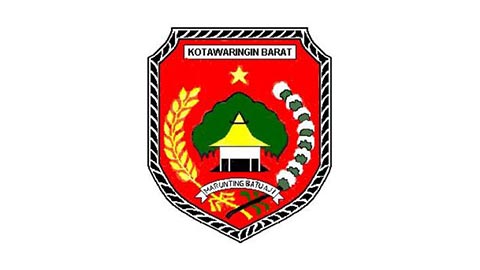 Kotawaringin Barat Government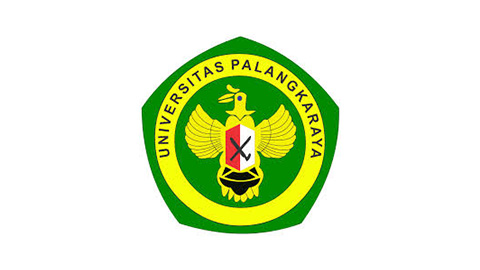 University of Palangka Raya