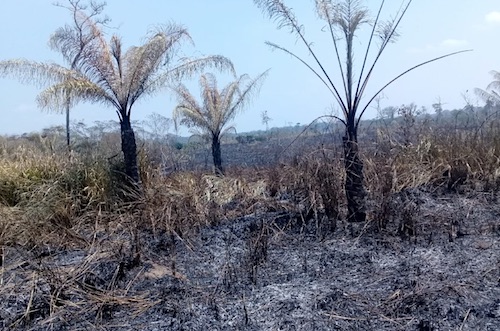 Fires devastate women-owned farms in Brazil's Acre state
A wildfire north of the city of Rio Branco in the Brazilian Amazon state of Acre has consumed farms belonging to several women producers involved in a recently launched online produce platform created in response to COVID-19.
The fire, allegedly set by neighboring farmers clearing grass, has destroyed crops and devastated the sole source of income on which the women and their families rely.
"The fire came and burned everything, all my land, everything. With no water my children and I tried to make a firebreak, but the fire beat us," said Jesuíta Alves, 56, who has worked as a farmer for 25 years. Her two-hectare plot, along with that of her neighbor, Maria Salome, was totally destroyed by the flames.
Alves plans to report the incident to local authorities. "What else can I do," she said.
Brazil's president, Jair Bolsonaro, recently announced a 120-day ban on fires in the Amazon. Members of the local military, which the government has turned to for help detecting and putting out fires in the Amazon as COVID has put a halt to regular monitoring activities, eventually arrived to combat the flames around Alves' farm.
FeiraSISA, or the SISA Market, launched in June, just as the full impact of the coronavirus pandemic on local communities and economies in and around Rio Branco was being felt. Open air markets that are the sole source of income for many smallholder producers were quickly shut down, spurring the women producers to build the online platform in response.
Women producers in rural parts of Brazil contribute close to half of household income, and are central to socially inclusive, low-emission development strategies in regions like Acre, which in recent years has pioneered approaches to protecting standing forests while growing its economy.
SISA refers to Acre's System of Incentives for Environmental Services, credited with helping the state become one of only a handful of jurisdictions to receive international pay-for-performance funding for its past success in reducing emissions linked to tropical deforestation.
Supported by Acre's Environmental Services Development Company (CDSA) and Earth Innovation Institute (EII), FeiraSISA is the first online platform of its kind in Brazil, leveraging existing technologies to connect sustainable producers to consumers shut in by the virus and hungry for access to fresh produce and other food items.
Not long after its launch members of the group reported a sharp spike in sales through the platform as online orders quickly surpassed capacity. Prior to this week's fires the women had been working with CDSA on establishing a central processing facility where orders could be received and delivered.
"Most of the products available on the platform have been burned," said EII Acre Program Manager Elsa Mendoza, who worked closely with the women on the development and launch of FeiraSISA. She described the mood as one of "sadness and despair," noting CDSA is looking into ways to support the women following the loss of the farms.
A prolonged dry spell in the Amazon region has made conditions even more volatile as Brazil's fire season gets underway. This year alone the country has detected a record 516 large fires as of Aug. 27, according to satellite data analysis by the Monitoring of the Andean Amazon Project (MAAP). A majority of the fires were set illegally to clear land for crops or pasture.
Smoke from the fires is also compounding respiratory conditions caused by the coronavirus for people in the area.
The fires that struck Alves' farm are emblematic of the role that farmers across the Amazon occupy as both instigators of fire as well as victims. "We have been working here for years, trying to conserve our land, and someone comes and sets fire to it," said Alves. "Every year here I have this same problem."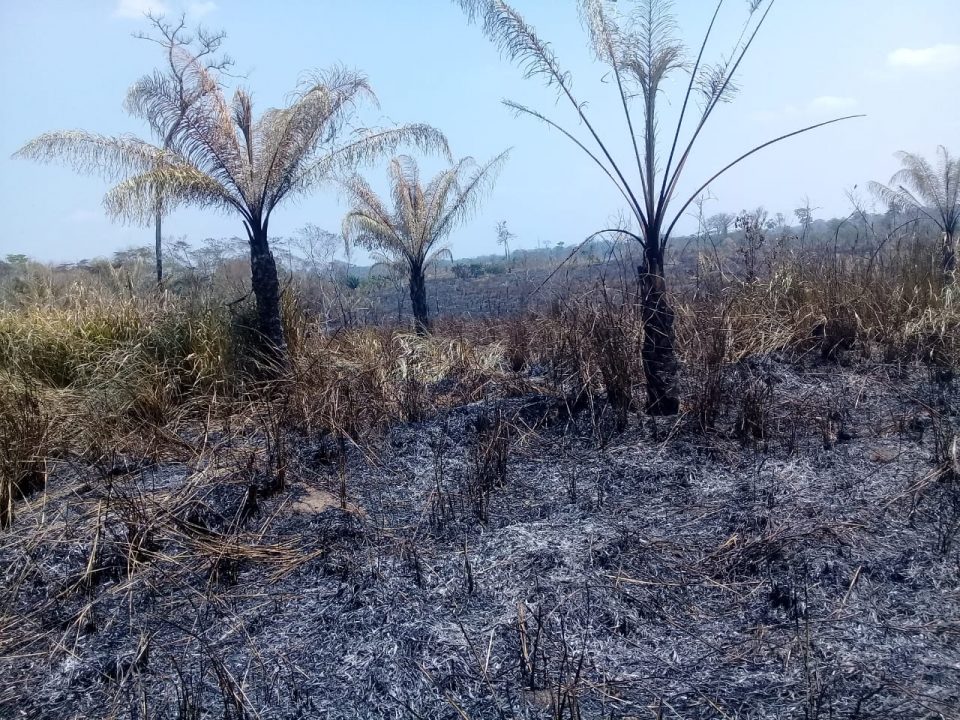 EII Executive Director and Senior Scientist Dan Nepstad, who has spent much of his thirty-year career researching fires in the Amazon, says the fires are an added challenge for farmers trying to maintain sustainable practices.
"This tragic accident illustrates how the perennial threat of fire discourages farmers investing in tree crops and vegetable production that are a more sustainable alternative to extensive cattle grazing," he said, adding that long-term strategies that engage people on the ground are needed to mitigate the threat of fire going forwards.
Cattle grazing is recognized as a key driver of forest loss in the Amazon, though "productivity of cattle ranching in the Amazon is notoriously low," Nepstad noted in a recent interview, in which he called the loss of forest to cleared land for pasture "one of the worst tradeoffs… in the world."
Small family farms like Alves' make up an estimated 85% of agricultural establishments in Brazil, which is a leading exporter of commodities like soy and beef that are blamed for ongoing deforestation and increased threat of fire. These smallholder plots supply upwards of 70% of the food consumed domestically, with larger agribusinesses focused primarily on exports.