Darrel Webber, former head of RSPO, to lead EII's Tropical Forest Champions initiative
Darrel Webber, former CEO of the Roundtable on Sustainable Palm Oil (RSPO), has stepped into his new role as managing director of Global Forest Strategies at Earth Innovation Institute, where he will lead EII's Tropical Forest Champions initiative, among other tasks.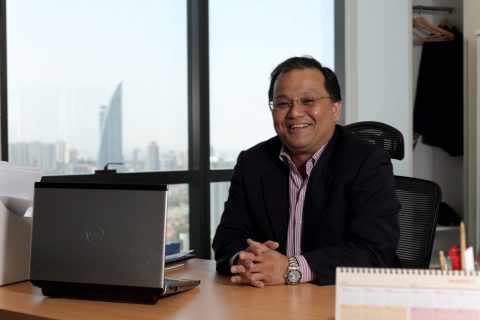 "I am really excited to work more on the topic that initially prompted me to leave the corporate world many years ago, namely forests," said Webber. "I am excited to see how I can deliver positive, on-the-ground impacts for rainforest landscapes and nations."
In addition to leading Tropical Forest Champions, Webber will also oversee EII's work in Southeast Asia.
The Tropical Forest Champions initiative was launched in 2019 to foster partnerships between the private sector and tropical forest states and regions that are striving for forest-, community- and climate friendly-development. Despite numerous pledges and commitments from companies, few such partnerships have materialized, leaving tropical jurisdictions that are working to protect their forests without needed investments.
Darrel is a recognized leader in sustainable development and an accomplished bridge-builder among sectors that have often been in opposition. During his nine years as CEO of the RSPO, he grew its membership more than ten-fold from 400 to 4,500. One fifth of the world's production of palm oil—which is an important driver of deforestation, especially in Southeast Asia—is now certified under the RSPO standard.
Webber has also long championed jurisdictional approaches to deforestation, a hallmark of EII's work, launching and leading the RSPO "Jurisdictional Approach" to certification and supporting directly the process of jurisdictional certification in Sabah, Malaysia, on the island of Borneo, where he was born and raised and where he resides today.
"Collaboration and working with champions across the globe was the secret to RSPO's success… In order to provide crucial solutions for rainforests, we need to harness the voices and hands of the many stakeholders we have," he noted.
Webber comes to EII amid heightened global attention to the threats confronting the world's tropical forests, triggered in part by fires in the Amazon and Indonesia in 2019 that grabbed international headlines.
Confronting these challenges will require presenting tropical forest states and regions with alternative and more sustainable paths to development, something Webber says EII is uniquely poised to achieve.
"EII can provide a compelling argument for rainforest nations to forgo what is a proven path to economic development (i.e. trading natural resources for cash) … [through] tangible results on the ground [and] by bringing cutting edge solutions to the regions we are now working in."