Peru designates new conservation area in region grappling with deforestation
Peru's government has announced the creation of a new conservation area in a region that not long ago saw some of the country's highest rates of deforestation. The announcement came last week during a public ceremony in the Chinchao district of Huánuco led by Peru's environment minister, Fabiola Muñoz, Huanuco Governor Juan Manuel Alvarado and Adain Atavillos, mayor of Chinchao.
"Huánuco is taking a historic step," declared Muñoz, according to local media reports, "because after being one of the regions with the highest rates of deforestation… today its history is changing for the better."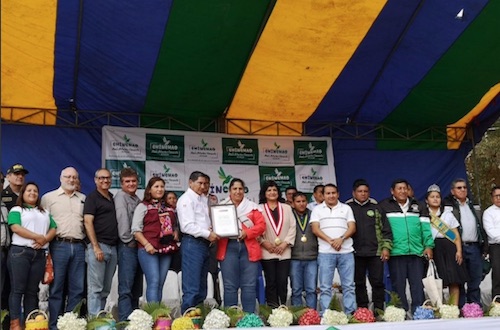 The announcement followed a national decree signed by President Vizcarra designating the Bosque Montano de Carpish as a Regional Conservation Area. It caps a 20-year effort led by Chinchao Municipality and the Regional Government to conserve the more than 50,000 hectares of forests and ecosystems along the eastern edge of the Peruvian Amazon.
Located 400 kilometers northeast of Lima, Bosque Montano de Carpish is well known for its rich biodiversity, home to an array of endemic birds and to plant species native to Peru. Supporters of the move are hopeful that its newly won protected status will act as a draw for tourists and provide a source of revenue for local communities.
The effort to win the designation was spearheaded by local community leaders and NGOs, including Andes Amazon Fund and Nature and Culture International (NCI) which work closely with local committees to control deforestation. Muñoz acknowledged these efforts in her remarks during Friday's ceremony. "We have to get rid of the mindset that forests stand in the way of development. With a commitment to conservation, we can generate productive projects without damaging the forests."
In 2017, approximately 23,240 hectares of forest in the Huanuco Region were impacted by deforestation, largely driven by the expansion of agriculture, cattle ranching, coca and palm oil cultivation. For that reason, the regional government of Huanuco recently began work on the formulation of a low-emission development strategy (LED-R) to identify opportunities to decrease deforestation, increase local production and improve livelihoods in rural areas including the Carpish forest. The first draft of the strategy will be released in March, with final approval pending a public comment period.
The LED-R strategy process is being led by the Huanuco Regional Government with support from NCI, Earth Innovation Institute, Instituto del Bien Comun (IBC), World Agroforestry (ICRAF), the Centro del Conservacion, Investigación y Manejo de Areas Naturales (CIMA), Sociedad Peruana de Ecodesarrollo (SPDE) and Pontificia Universidad Catolica del Peru (PUCP). Opportunities are available for those institutions that are interested in collaborating.