Women entrepreneurs share experiences in low-emission development at Acre workshop
Sara Hurtado is the founder of Peruna, a company based in Madre de Dios, Peru that sells edibles made from locally harvested Brazil nuts. After three decades struggling to grow her business, the pioneering entrepreneur only recently acquired the certification required to market her products as sustainable.
Hurtado was one of more than three dozen women entrepreneurs who shared their experiences working in the rural low-emission sector during a two-day event in the Brazilian state of Acre last week.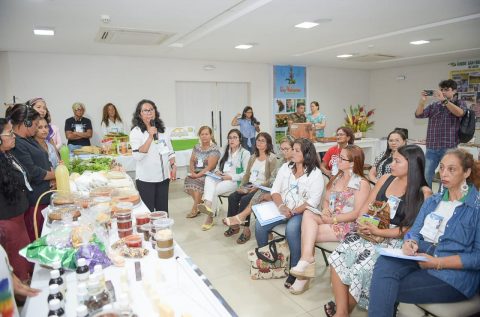 "The persistence of this businesswoman is remarkable," said Elsa Mendoza, who leads EII's program in Acre and helped organize the event. "She started with one Brazil nut tree, selling the raw material for meager profits before launching a line of snacks all made from Brazil nuts grown and harvested on her property."
EII partnered with Acre's Company for the Development of Environmental Services (CDSA), which works to expand market access for sustainable products, and the State Secretary for Industry, Science and Technology (SEICT) to organize the March 12-13 event in the city of Rio Branco.
Thirty five rural women entrepreneurs from Peru, Bolivia and Brazil came together for the two-day panel. For participants, it was a chance to better understand women's role in their communities promoting low-emission rural development (LED-R) and mitigating against the impacts of climate change.
"We wanted to show the value of rural women entrepreneurs, who respect the environment, who do not deforest, and who do not burn fires," explained Mendoza. "They care about the future, about the next generation."
This was the second annual workshop following a similar event last year in the state of Madre de Dios, Peru.
Around the world women are among the most vulnerable to the impacts of climate change, from displacement to diminished resources and access to information. But women also play an outsized role in helping to keep global warming below 2 °C. The United Nations identified Gender Equity as among its 17 Sustainable Development Goals, which together lay out a roadmap to prevent global warming of 2 °C before 2030.
"Our goal is to prompt the exchange of ideas between participants and the public in order to inform policy around agriculture, land use and other issues tied to sustainable development," Mendoza added.
José Gondim, head of CDSA, said these exchanges present opportunities to identify assets for sustainable growth, and to integrate with the local economies, including those in neighboring Peru and Bolivia.
"Events like this are important for us to understand the productivity of women producers," he said. "Women have the highest workload, and they face the most difficulties entering the job market, especially as businesswomen and entrepreneurs."
Women in rural areas of Brazil contribute approximately 42 percent to household income, according to government census data.
Speakers shared their experiences working in low-emission agricultural production, as well as in non-timber products, handicrafts, and ecotourism. They also called for their national governments to provide greater support, including for such things as improved technology to bolster the sector, and for international aid in expanding market access for their products.
"This is the first time I've participated in an event like this," said Lirio Lima, a member of a sustainable producers association in Bolivia, who said she learned from the other speakers "about the many kinds of initiatives that put a value on forest products and support women working in the sector."
Geovana Brasil is part of the Associación do Camponesas, based in Brasilia and whose members are rural women farmers like herself. "We need to continue with these kinds of events," she said, "to learn from the experiences of other women and to understand how we can continue to improve our products and our businesses."