In Peru, superfruits initiative offers a 'global example of forest conservation'
There is no silver bullet solution to the issue of deforestation in the Amazon. But there is near unanimous agreement that preventing the loss of the world's largest rainforest—key to preventing catastrophic climate change—will require robust collaboration across all sectors, both public and private.
That is the driving force behind a new initiative, Superfruits for Forest Protection, launched in Peru last week.
Named for two native Amazon fruits, aguaje (buriti in Brazil) and camu camu, long prized for their health-giving properties, the project represents a groundbreaking partnership between Peruvian beverage maker AJE, the U.K government—the project's financial backer—local and international NGOs, and Indigenous groups.
"We hope this project becomes a global example of forest conservation," Marcio Sztutman, Latin America Regional Director for the U.K.s Partnership for Forests program, told reporters during a launch event held in the Department of Loreto.
The goal, say partners, is to establish a thriving bioeconomy for 22 Indigenous communities that reside in the region of Loreto while helping ensure the protection of forests across more than 5 million hectares in the Peruvian Amazon.
AJE, which has worked closely with Peru's Ministry of the Environment in the development of the project, has already begun production of a line of immunity-boosting beverages made from these two superfruits under the name Amarumayu, the original name for the Amazon River in the Indigenous Quechua language (amaru=serpent, mayu=river).
"By creating a commercial market for these Amazonian superfruits, [we] are valuing the trees from which these superfruits are grown, thereby protecting them," Amarumayu said in a statement. "In tandem, [we] are investing in opportunities for the Indigenous communities that call the Amazon home - the true Guardians of the Rainforest – empowering them to earn an income while protecting and preserving it."
The U.K.s Peru Ambassador, Kate Harrison, echoed that sentiment, stressing to reporters at the project launch the importance of creating deforestation-free supply chains that benefit forest-based communities. "We are proud to support this project, which strengthens our work within the framework of [Peru's] efforts to reduce deforestation."
More than 17% of the Amazon has been lost to deforestation over the previous five decades, a trend that if left unchecked threatens irrevocable harm to the self-sustaining cycles the rainforest depends on for its survival. Much of the forest loss in Peru—home to the second largest expanse of Amazon forest after Brazil—is driven by smallholder farmers looking to make a living, along with illegal gold mining and coca cultivation.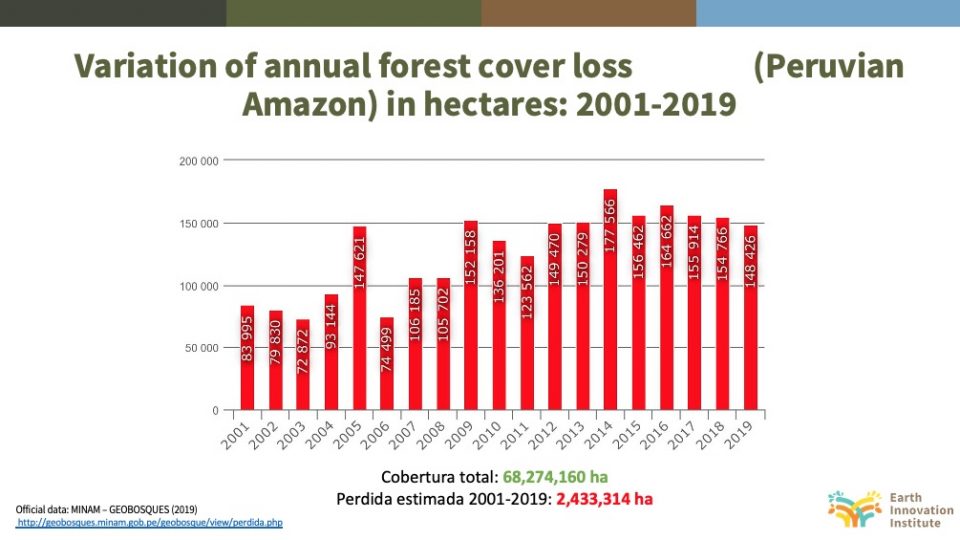 The aguaje, or "tree of life," thrives in riverine peatlands that extend across much of the Amazon and are some of the most carbon dense ecosystems on the planet, holding as much as 1160 tons of carbon per hectare. Traditional harvesting methods have typically involved cutting down the female aguaje palms to extract the fruits. While this did not have long-term impacts on tree populations as demand was limited to local Indigenous communities, recent increases in market demand have led to rising rates of forest degradation in these ecosystems.
Working with project partners, Indigenous communities living in Peru's Pacaya Samiria National Reserve have begun to transition to alternative methods to harvest fruits from standing trees, delivering them for processing and eventual shipment to global markets.
The term "superfruits" refers to the high nutrient content found in aguaje and camu camu, the latter of which contains 500 times more vitamin c than an orange.
Gustavo Suarez de Freitas, who leads EII's programs in Peru, says the project is "a model of the kind of public-private partnership needed to ensure the success of forest conservation measures in the Amazon and worldwide."
Superfruits for Forest Protection is financed by a grant from the U.K. through its Partnerships for Forest (P4F) program and is managed by Earth Innovation Institute (EII) and implemented by Nature and Culture International (NCI), Amazónicos por la Amazonía (AMPA), Amaru Mayu and Frutama.