Positive incentives key to achieving deforestation-free cacao in Perú
Europe is the world's largest importer of cacao, the main ingredient of chocolate, accounting for more than half of global consumption. As European Union legislators move to curb imports linked to deforestation, cacao growers in Peru are maneuvering to ensure continued access to this important market.
But many say they are uncertain about what changes new EU legislation might bring, and there are concerns of a turn to more forest-intensive practices — including illegal logging and coca production — to make up for any potential lost revenue. 
"Peruvian cacao producers understand the importance of sustainability and the role of low-emission agriculture in slowing deforestation," says EII Senior Policy Analyst Patricia Luna, "but they are still not seeing positive market signals for improving their production systems."
Making the transition to deforestation-free cacao is a process that requires farmers, companies, and governments to work together to implement the necessary changes, explains Luna. "And in that process, technical assistance, access to finance and positive incentives from markets are the most powerful tools to achieve this goal."
In June, Earth Innovation Institute began an ongoing series of interviews with cacao producers and producer associations in the Alto Huallaga region of San Martín, Perú to better understand challenges there to meeting more stringent sustainability standards. The interviews are part of a collaborative effort in support of the Tropical Forest Alliance's Amazon Origin Cocoa Initiative (supported by USAID), which aims to promote zero deforestation production and sustainability standards in the cocoa supply chain in Brazil, Colombia and Peru.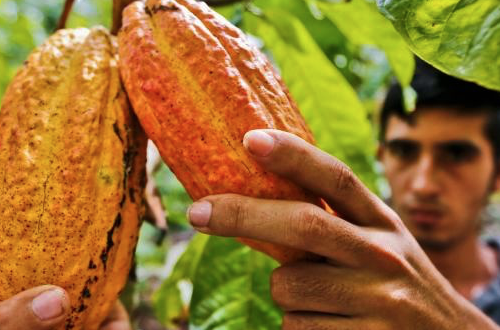 Once a hotspot for illicit coca production, Alto Huallaga, located in the San Martín region of northern Perú has become one of the nation's main producers of high-quality and organic cacao. But according to Luna, there is growing anxiety among producers in the area over the EU Green Deal, which aims to make Europe climate neutral by 2050, in part by restricting imports of commodities linked to deforestation.
Toribio Juarez Trujillo is with the Peruvian Association of Cacao Producers. "[We] are very clear that production must be deforestation-free because it has an impact on climate change and local water sources in our watershed," Juarez notes. But, he adds, diminished crop yields brought on by a recent pest infestation, shifting weather patterns linked to climate change, and the lack of support to implement solutions is "pushing producers deeper into the forests."
Gonzalo Ríos, director general of ACOPAGRO, one of the largest associations of small cocoa producers in San Martín, says rather than cutting growers out of the market, offering a premium price for Peruvian cacao — which is considered higher quality and hence targets niche markets — "can be the most powerful incentive to reduce deforestation and improve the quality of life of our producers."
Describing EU policy as both an "opportunity and a threat," Luna notes that while the Green Deal has succeeded in putting the issue of deforestation front and center, without support to help producers make the transition to more sustainable methods, "most will turn back to coca." There is in fact increasing evidence this is already happening.
Cacao accounts for nearly a quarter of the local economy in Alto Huallaga, where the crop was introduced in the 1980s as part of an alternative development model intended to curtail coca production. While not among the drivers of deforestation in Perú, rising rates of forest loss in the country's Amazon region, where most of Peru's cacao is grown, can make it difficult for producers to meet new and more rigorous sustainability standards.
According to Luna, some 30% of cacao producers in Alto Huallaga are part of associations that sell directly to purchasing agents that then sell to European buyers. The remaining 70% are unorganized, typically in smaller villages that sell to local traders, a complex network of buyers and sellers that further complicates efforts to ensure traceability.
In his first address since taking office in late July, Peruvian President Pedro Castillo, himself the son of rural farmers, referenced rising deforestation in the country, home to the second largest expanse of Amazon rainforest after Brazil. Though he offered few details, Castillo expressed his commitment to ending "environmental degradation, deforestation … and [making] the transition to a socially inclusive, low-carbon economy."
The EU accounts for roughly 40% of Perú's cacao exports, which totaled $146 million in 2020, with the rest going to markets in the United States and Asia.
"The European Green Deal is designed to make Europe greener," explains EII Europe Director Bjørn Rask Thomsen. "And so, the forest legislation now being discussed in the EU and UK will likely force European companies to do due diligence on imported commodities." Even the risk that a product is linked to deforestation will be enough to turn buyers away, he says.  "They will look for which producers and exporters are the greenest and most reliable over time."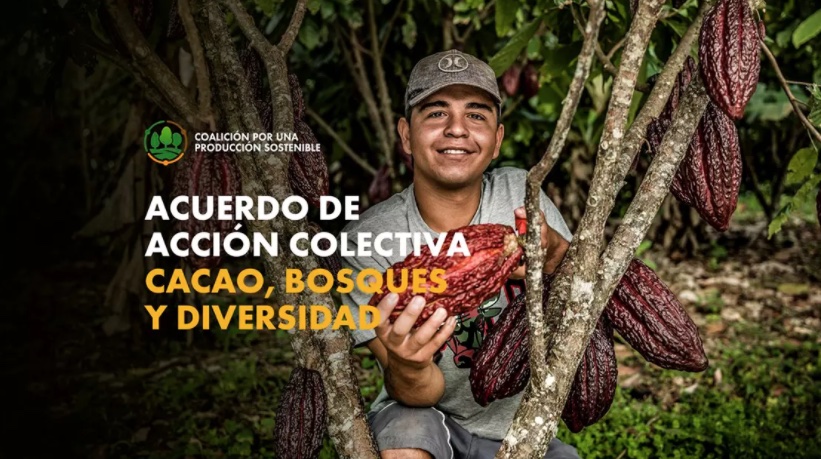 Thomsen anticipates it will take up to four years for any new policy to go into effect as legislators in the EU are expected to negotiate over details of the law before full implementation. That provides a critical window of opportunity to support producers as they work to meet new and higher standards, which Thomsen says are most assuredly on their way. "The overall message to producers is clear; expect European importers to demand low-carbon, deforestation-free, and sustainable commodities."
To that end, EII is partnering with the Earthworm Foundation and Helvetas Swiss Intercooperation on a pilot program that embeds the Amazon Origin Cocoa Initiative as part of a broader jurisdictional sustainability strategy for the San Martín region (one of six regions in the Peruvian Amazon now poised to adopt such strategies).
Both Earthworm and Earth Innovation Institute are members of the Coalition for Sustainable Production, which brings together public and private sector actors, as well as indigenous and civil society leaders to promote low-emission, forest-positive development in Perú.
In May, the Coalition announced the launch of the National Cacao, Forest and Diversity Agreement, which Coalition Coordinator Fabiola Muñoz describes as a "collective, voluntary action [that seeks] to improve the relationship between cocoa, tropical agriculture and forests" and to contribute to strategies that can help "distinguish" Peruvian cacao's unique attributes.
The pilot program will run through November, 2021, providing a potential roadmap and action plan for implementation of the Amazon Origin Cocoa Initiative in selected landscape in San Martín, Perú as part of the activities of Coalition for Sustainable Production and supported by TFA.