Acre is small by Brazilian Amazon standards, but when it comes to sustainable development the state is a giant. Through its State System of Incentives for Environmental Services (SISA), Acre is currently implementing the world's most advanced jurisdiction-wide REDD+ system. The steps that Acre's government has taken towards lowering deforestation rates while growing the economy and keeping much of its forests standing are important but fragile.

Visit AcrePPP for detailed information on strategies, performance indicators and investment opportunities
Our Strategy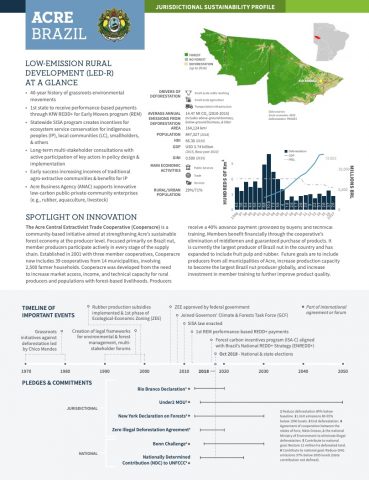 Earth Innovation Institute's Acre strategy is centered on supporting the state's transition to sustainable rural development. We are helping bring businesses and investors into Acre's SISA programs. At the same time, we provide technical assistance as the state seeks to certify its program and better monitor deforestation and carbon emissions. We serve on Acre's Scientific Committee and we are supporting the development of a state-wide low-deforestation agricultural sector that includes livestock as well as forest-products such as nuts and rubber. Acre is part of the Governor's Climate and Forests Task Force (GCF), an international group of 38 states and provinces that are working together to promote jurisdictional REDD+ strategies.
Learn more about how Acre and other tropical forest regions are working to advance low emission development by visiting the State of Jurisdictional Sustainability.
Other regions in Brazil